How the restaurant-grocery hybrid is taking over, with c-stores joining too

In order to differentiate themselves from the convenience of online shopping, grocery stores — and even some convenience and drug store chains — are carving out space for dine-in and takeout experiences. Dubbed 'grocerants,' this trend has taken off in recent years, and is one that analysts are calling a necessity.
Millennials are a big driver of the grocerant expansion, especially because they eat out 30 percent more than other generations before them, according to data from USDA's Economic Research Service. While the concept of a retail-based meal is nothing new — consider mall food courts, for example — stores are now rolling out experiences that are customized to fit their communities and aimed at engaging young shoppers.
For decades, many Whole Foods locations have included a cafeteria-style selection of ready-to-eat foods from salad bars and hot bars, giving customers a reason to linger before or after they shop. Wegman's has also long been known for its food court-style options, such as counter service burgers and pizza. However, the "grocerant" is generally defined as a free-standing restaurant either within or adjacent to a supermarket. In addition to the cafeteria offering, Whole Foods now has more than 30 full-service restaurants and 250 quick service concepts across its locations.
90 percent of shoppers revisit stores that create an enjoyable sensory experience
According to industry analysts Technomic, supermarkets' dining options will continue to look more and more like fast casual restaurants, with cafe-style seating, limited service, and perks such as free WiFi. Expect emphasis on personalized made-to-order meals, fresh ingredients, pressed juices, eco-friendly packaging, and other Millennial-friendly touches.
The grocerant model is not only a strategic way to attract hungry, time-crunched consumers, but also a way for traditionally "boring" supermarkets to delight customers. A recent survey by Mood Media and Walnut Unlimited found that 90 percent of shoppers revisit stores that create an enjoyable sensory experience. Progressive Grocer also found that stores that engage customers in ways that are impossible to achieve through a digital device are finding success. Grocerants can offer ways for stores to provide new experiences, such as cooking classes and wine tastings, that introduce visitors to products they can buy off the shelf.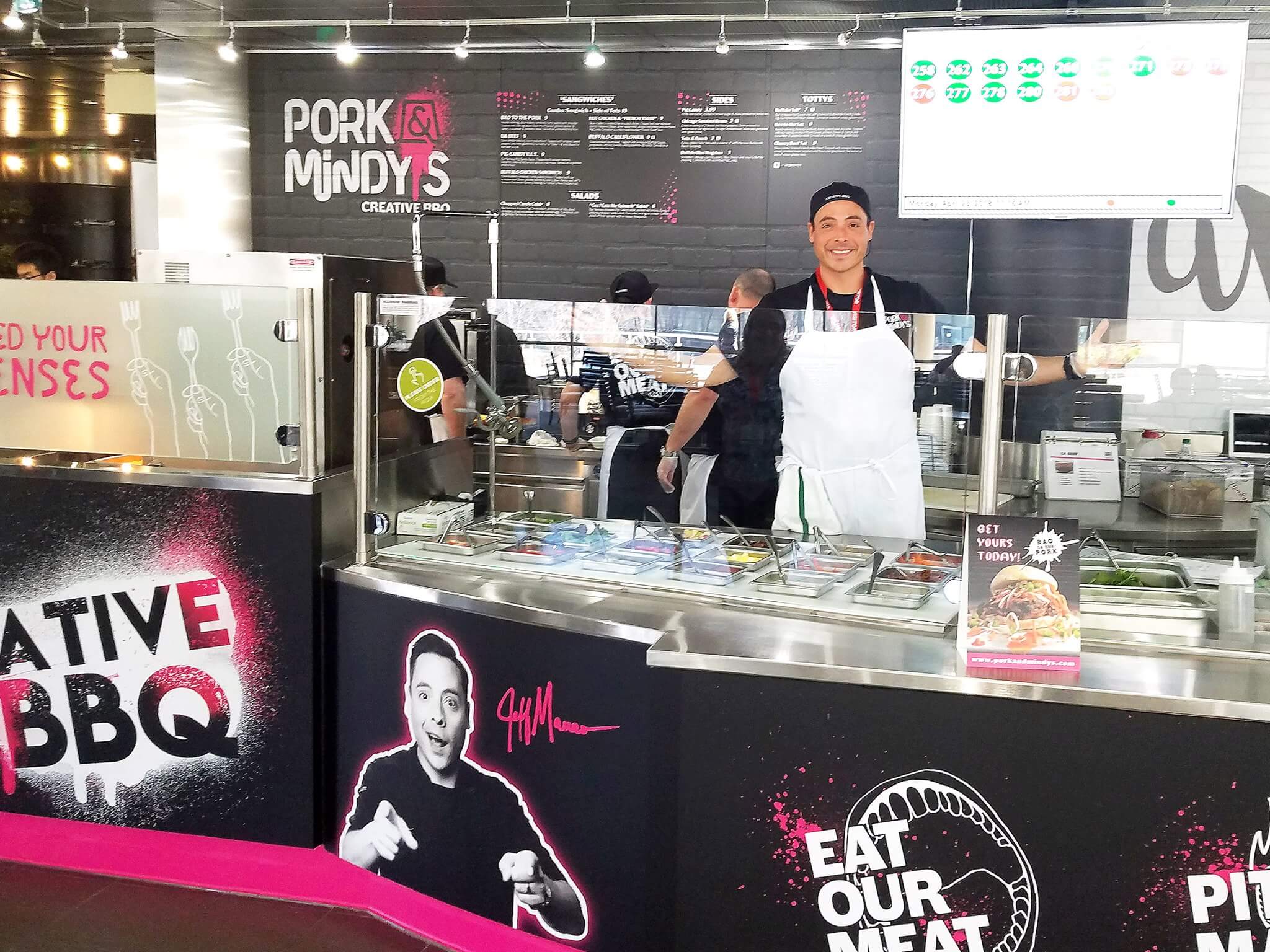 Pork & Mindy's Jeff Mauro.
A number of chains are partnering with well-known chefs and restaurants to bring foodie credibility to their aisles. Leading grocer Kroger recently announced new in-store dining experiences. It's Chicago-area Mariano's stores will add 28 Pork & Mindy "mini" barbecue restaurants this year. The 200-square-foot restaurants, owned by Food Network celebrity chef Jeff Mauro, will feature both signature dishes and grab-and-go items. In Ohio, select Kroger Marketplaces will implement Rapid Fired Pizza to sell craft-your-own pizzas and take-and-bake pre-made pizzas.
Several other chains have jumped aboard this trend. Hy-Vee is opening Wahlburgers burger chains throughout the Midwest with plans for 26 locations. H-E-B recently unveiled a new fast-casual concept, True Texas Tacos. In the Southeast, the GreenWise Market line by Publix features a grocerant experience with noodle bars, artisanal pizza, and beverage bars that serve smoothies and kombucha. Even Walmart has dipped its toes into the trend, opening an organic fast-food chain, Grown, in one of its Florida stores.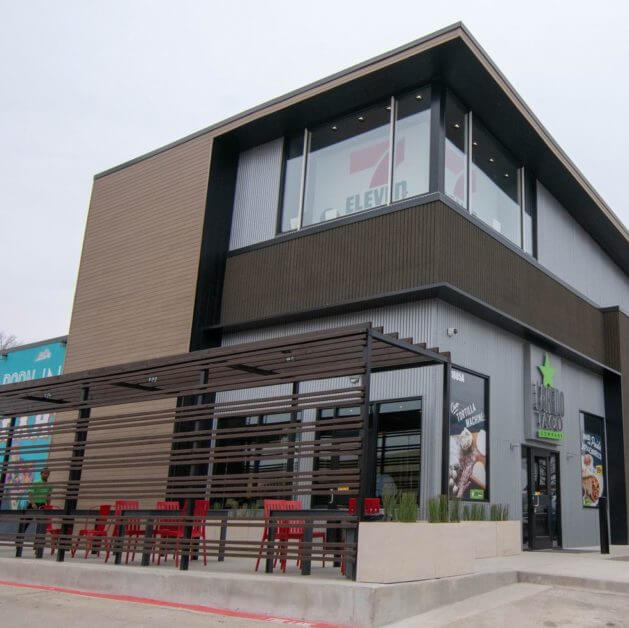 7-Eleven's new sit-down format.
Convenience stores are jumping in too, with 7-Eleven announcing a line of sit-down locations across the U.S. that will offer coffee service, tacos by Laredo Taco Company, frozen yogurt, and for those of age, growlers of beer and wine by the glass. And Alltown Fresh is planning to expand its health-focused c-store concept across New England, making it possible for customers to fill up on avocado toast and grain bowls along with gas and diesel.
The shift to prepared meals in stores has been massive — the category has grown 30% in sales over the last ten years, driving $10 billion in sales for 2018, according to the NPD group. The numbers are comparable to the innovation of the drive-thru window.
Restaurants aren't facing this new trend laying down, either — they are responding by adding more customer-facing technology, using more options for food delivery service, and even offering meals kits.
The lines between restaurant, grocery, and convenience store will continue to blur as stores scale down and specialize, and consumer demand shifts toward healthier, fresher food options all while desiring the most frictionless experience possible. Grocerants have emerged as a way to give shoppers a one-stop shopping experience — something they've become accustomed to both in the physical world and online.
Gain Control Today
Achieve operations efficiency and food safety compliance with our simple, intuitive solution.
Learn More